Description
STid Vehicle Access Solutions
STid has developed a comprehensive reader range for all your vehicle identification and fleet management applications. Many high-performance readers are available: integrated antenna, multi-antenna, ATEX& IECEx certified…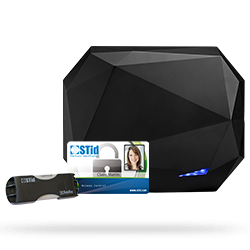 SPECTRE – UHF scalable long range reader
The power to secure and streamline your vehicle gates!  Discreet, elegant, flexible, perfectly secure… it ensures automatic and remote identification of vehicles by controlling up to 4 lanes…
ANT V2 – High-performance antenna for SPECTRE UHF reader
The antenna V2, which uses passive (battery-free) UHF RFID technologies, is designed specially for easy connection to the upgradeable SPECTRE readers. Up to four antennas can be connected.
ARC UHF – UHF desktop reader / encoder / enroller
The Architect® UHF desktop reader is specially designed for all short-range contactless encoding, enrollment and identification applications. It can read and write all credentials compliant with the international EPC Class 1 Gen2 and ISO18000-63 standards. 
ATX – UHF ATEX & IECEx certified reader – Integrated antenna
The ATX UHF is a high performance ATEX and IECEx-certified reader with a built-in antenna for all your vehicle or driver identification requirements in explosive environments.
TeleTag® – UHF movable windshield tags
Designed to be mounted on windshield, the TeleTag® allows remote and secure identification of a vehicle in motion or not. It is suited for all kind of vehicles (car, utility vehicle, truck, etc.)
ETA – UHF adhesives windshield labels
Well designed to be mounted on any type of windscreen, the ETA UHF adhesive labels allow the remote identification of a static or moving vehicle. For more security, they are optionally equipped with a self-destroying system. They adapt to all vehicles (car, utility vehicle, truck …) for your parking control applications and fleet management.
ETA v2 – Destructible UHF adhesive tags for windshields
The ETA v2 UHF adhesive tag, which is designed to be attached to all types of windshields, offers fast and reliable vehicle identification over long distances. When used in combination with the SPECTRE reader, the tag enables your parking lot access control and fleet management applications to run more smoothly.